Mini Reunion Dallas, TX July 2, 2004
The 61st AHC held a mini reunion conjunction with the VHPA Reunion in Dallas, TX. on 2 July at the Adams Mark Hotel.
The following members attended the Mini Reunion.
Jim Beach
Corky Vereen
Bob Bell
Mike Conway
Alfred Hamilton
Frank Pierce
Rom Zima
Pete Chouinard
Dave Greer
Doyle Earles
Cary Hays
Rod Rawlings
Lee Potratz
Mike Newland
Dick Easterwood
Walt Allen
Henry Winther
Chuck Bemis
Mike Baskin
Ezell Ware
George Bryant
Lloyd(Mike) Warren
As always not all the members were at the mini reunion when the group photo was taken, but most were.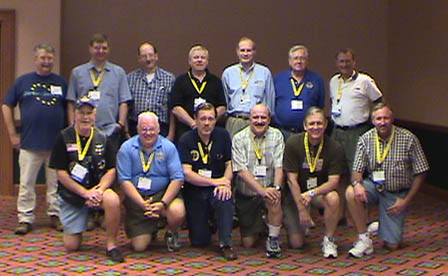 Back Row: Lee Potratz, Ron Zima, Henry Winther, Rod Rawlings, Mike Warren, Cary Hays, Corkey Vereen
Front Row: Frank Pierce, Jim Beach, Bob Bell, Pete Chouinard, Dick Easterwood, Mike Baskin

Cary Hays and Ezell Ware

Corky Vereen, Ezell Ware

Dick Easterwood

Dick Easterwood, Bob Bell, Pete Chouinard, Rod Rawlings

Doyle Earles, Bob Bell

Frank Pierce

Jim Beach, Henry Winther

Lee Potratz

Lloyd (Mike) Warren and Frank Pierce

Ron Zima

Walt Allen