Mini Reunion Orlando, FL July 3, 2003
The 61st AHC held a mini reunion conjunction with the VHPA Reunion in Orlando, FL. on 3 July at the Centre Hotel.
The following members attended the Mini Reunion.
Jim Beach
Corky Vereen
Bob Bell
Mike Conway
Alfred Hamilton
John Shaw
Chuck Wilcher
Ray Coolbaugh
Fred Giles
Rod Dykhouse
Cary Hays
Bob Hutchison
Mel Gingery
Greg Gandy
Pete Swanz
John Watcher
Ken Jobe
Mike Virginiak
Roy Pullins
Allan Brodrick
Mike Baskin
Jerry Gout
As always not all the members were at the mini reunion when the group photo was taken, but most were.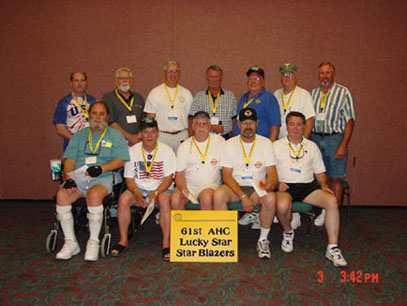 Back Row: Ray Coolbaugh, Allan Brodrick, Bob Hutchison, Corky Vereen, Jim Beach, Cary Hays, Mike Baskin
Front Row: John Shaw, Roy Pullins, Chuck Wilcher, Rod Dykhouse, Fred Giles

Al Hamilton, Cary Hays

Cary Hays, Mike Baskin

Chuck Wilcher

Chuck Wilcher, Rod Dykehouse, Roy Pullins, John Shaw

Allan Brodrick

Ken Jobe

Mike Virginiak, Corky Vereen

Pete Swanz

Ray Coolbaugh, Cary Hays, Chuck Wilcher